Immersion assembly
Dipfit CPA140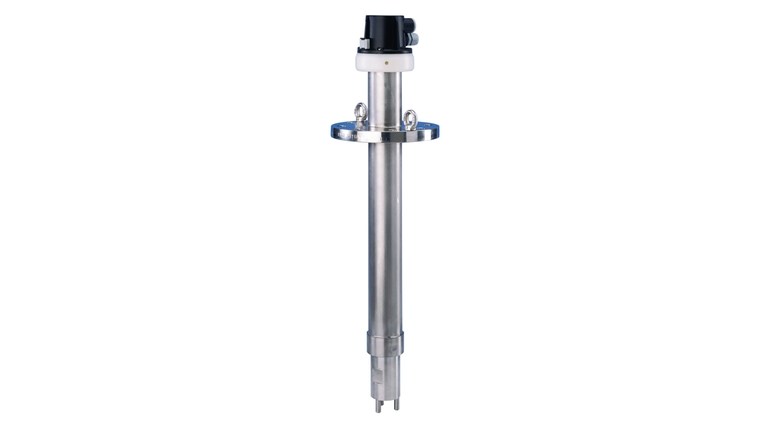 Durable assembly for the chemical, petrochemical, life sciences and power industries
The Dipfit CPA140 immersion assembly is designed for all demanding applications where aggressive media are involved. With its flange connection, Dipfit is installed safely in the process and offers space for three sensors. Its bayonet lock offers you easy sensor installation even in sticky media or media containing solid particles, thus saving time for maintenance and recalibration.
Selectare rapidă
Alegeţi dintre opţiunile noastre sugerate
Configurare individuală
Selectaţi în continuare dintre toate opţiunile posibile
Avantaje

Simple installation and removal of the electrode holder thanks to bayonet lock

Flexible connection to the process by means of various flanges (DIN, ANSI, JIS)

Less condensation due to a Goretex filter

Reduces installation effort by providing 3 mounting...
Domeniu de aplicare

Dipfit CPA140 is intended to be used in closed tanks in:

Chemical industry

Petrochemical industry


Life sciences

Power plants and waste incinerating plants


Extractive metallurgy and metal processing

It is suitable for use with pressures of up to 10 bar (...
Documente / Manuale / Software
Accesorii / Piese de schimb
Nr

12

Order code

50089298

Chemraz-O-Ring-Set for CPA140

Nr

12

Order code

50089296

EPDM-O-Ring-Set for CPA140

Nr

12

Order code

50089299

Fluoraz-O-Ring-Set for CPA140

Nr

12

Order code

50089297

Viton-O-Ring-Set for CPA140

Kit CPA140-2xxBxxx flange DN80

Kit CPA140-2xxDxxx flange ANSI3 inch

Kit CPA140-2xxExxx flange JIS10K80A

Kit CPA140/240-2 holder Tantal/Viton

Kit CPA140/240-2 holder Tantal/Chemraz

Kit CPA140/240-2 holder Hateloy/Chemraz

Kit CPA140/240-2 holder Hasteloy/Fluoraz

Kit CPA140/240-2 holder Hasteloy/EPDM

Kit CPA140/240-2 holder Hasteloy/Viton

Kit CPA140/240-2 holder Tantal/EPDM

Kit CPA140/240-2 holder Tantal/Fluoraz

Kit CPA140/240-2 holder w/o PAL/EPDM

Kit CPA140/240-2 holder w/o PAL/Viton

Kit CPA140/240-2 holder w/o PAL/Chemraz

Kit CPA140/240-2 holder w/o PAL/Fluoraz

Nr

10

Order code

51501160

Kit CPA140/240-2 PM Tantal/Chemraz

Nr

10

Order code

51501159

Kit CPA140/240-2 PM Tantal/Viton

Nr

10

Order code

51501161

Kit CPA140/240-2 PM Tantal/Fluoraz

Nr

10

Order code

51501157

Kit CPA140/240-2 PM Hastelloy/Fluoraz

Nr

10

Order code

51501155

Kit CPA140/240-2 PM Hastelloy/Viton

Nr

10

Order code

51501154

Kit CPA140/240-2 PM Hastelloy/EPDM

Nr

10

Order code

51501158

Kit CPA140/240-2 PM Tantal/EPDM

Nr

10

Order code

51501156

Kit CPA140/240-2 PM Hastelloy/Chemraz

Nr

11

Order code

51501153

Kit CPA140/240 dummy plug Fluoraz

Nr

11

Order code

51501152

Kit CPA140/240 dummy plug Chemraz

Nr

11

Order code

51501151

Kit CPA140/240 dummy plug Viton

Nr

11

Order code

51501149

Kit CXA140/240 dummy plug EPDM

Kit CPA140-30 holder 1.4404/Chemraz

Kit CPA140-30 holder 1.4404/Viton

Kit CPA140-30 holder 1.4404/EPDM

Kit CPA140-30 holder 1.4404/Fluoraz