Teqwave T – Ultrasonic concentration meter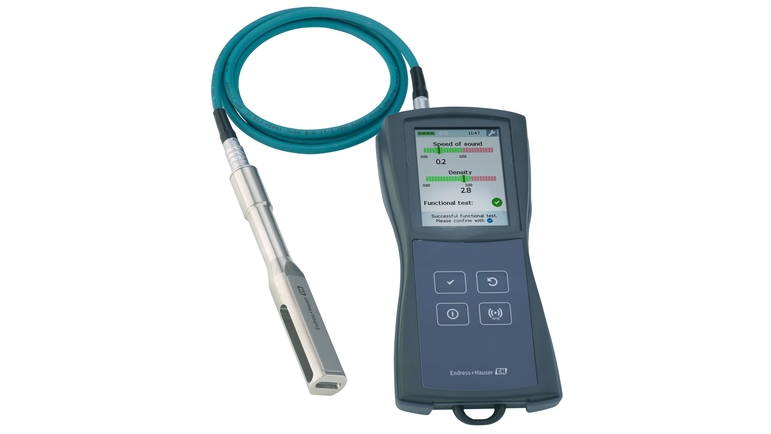 Smart, mobile measuring device – individually for your process
The portable Teqwave T offers the most flexible application possibilities for temporary in situ liquid analysis in your plant or laboratory. With just one device, you can monitor concentration values at various measuring points and thus maximize your product quality at minimum operational expenditure. The mobile transmitter with its pre-configured measuring points allows you to use Teqwave T perfectly matched to your production needs.
Produse simple

Ușor de ales, instalat și administrat
Excelenţă tehnică
Simplitate
Produse clasice

Fiabile, robuste și ușor de întreținut
Excelenţă tehnică
Simplitate
Produse superioare

Extrem de funcțional și convenabil
Excelenţă tehnică
Simplitate
Produse de specialitate

Conceput pentru aplicatii solicitante
Excelenţă tehnică
Simplitate
Colecții FLEX
Excelenţă tehnică
Simplitate

Colecție Fundamental

Îndepliniți-vă nevoile esențiale de măsurare

Excelenţă tehnică

Simplitate

Selecţie Lean

Gestionați-vă cu ușurință procesele de bază

Excelenţă tehnică

Simplitate

Colecție Extended

Optimizați-vă procesele cu tehnologii inovatoare

Excelenţă tehnică

Simplitate

Colecție Xpert

Stăpâniţi cele mai dificile aplicaţii

Excelenţă tehnică

Simplitate
Specificaţii pe scurt

Max. measurement error

Density: ±0.01g/cm³
Temperature: ±0.5K
Sound velocity: 2m/s

Measuring range

Concentration According to concentration app data sheet, maximum 0 to 100 %
Sound velocity 600 to 2000 m/s
Temperature concentration app data sheet, maximum 0 to +100 °C (32 to +212 °F)
Density 0.7 to 1.5 g/cm³

Medium temperature range

0 to 100 °C (32 to 212 °F)
Selectare rapidă
Alegeţi dintre opţiunile noastre sugerate
Configurare individuală
Selectaţi în continuare dintre toate opţiunile posibile
Avantaje

Easy, fast and efficient – real-time in situ liquid analysis

Versatile applications – one device for changing tasks

Highest process safety – reliable metering due to robust, maintenance-free sensor

Cost-saving – surveillance of product quality without...
Domeniu de aplicare

The acoustic waveguide measures precisely and reliably, even the smallest changes are detected

Temporary concentration measurement of liquids at various measuring points in plant & laboratory

Device properties

Insertion length: 180 mm (7 in)

Accurate and...
Documente / Manuale / Software
Poveşti de succes
Advanced bioprocess control

From time consuming sample analysis to real-time monitoring of critical parameters in fermentation processes thanks to complete solutions from hardware to development and analytical services.

Build-up monitoring

A water treatment plant in Germany faced the problem of unexpected downtime due to clogged water wells. With Heartbeat Technology build-up index the customer now monitors iron build-up in his process.

Reliable calibration using hydrocarbons

On the new factory calibration rig from Endress+Hauser, Wintershall Dea can now calibrate Promass F with hydrocarbons as legally mandated – a significantly cheaper option than on-site calibration.
Water monitoring saves lives

Water is increasingly being considered a valuable product in most countries. Therefore, the acceptance for water wastage is continuously decreasing and the need to control the water quality is rising.