Water hardness analyzer
Liquiline System CA80HA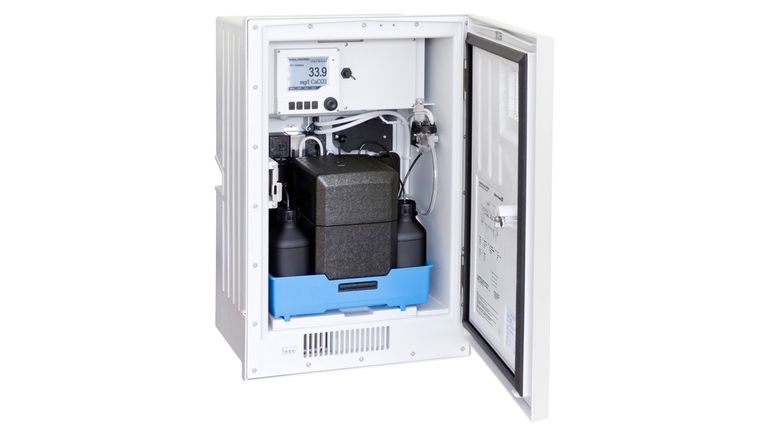 Colorimetric system for online monitoring of drinking water and process water
Liquiline System CA80HA offers precise online analysis of water hardness in drinking water and process water. It helps you optimize the control of water softening processes such as ion exchange or reverse osmosis and ensures optimal quality of products that are influenced by water hardness. The analyzer's automatic calibration and cleaning and its low reagent consumption reduce operating costs while advanced diagnostics with remote access ensure consistent process safety.
Selectare rapidă
Alegeţi dintre opţiunile noastre sugerate
Configurare individuală
Selectaţi în continuare dintre toate opţiunile posibile
Avantaje

The water hardness analyzer uses the phthalein purple method, ensuring direct comparability to lab results

Fast commissioning with plug & play thanks to Memosens technology and user-friendly operation

Reduces operating costs thanks to automatic...
Domeniu de aplicare

Liquiline System CA80HA supports you in monitoring total water hardness:

To optimize reverse osmosis and ion exchanger systems

To classify water hardness in drinking water

To ensure process water quality in production plants
Documente / Manuale / Software
Accesorii / Piese de schimb
Maintenance booklet CA80xx for download

Reagent / Standard solution CY80HA

Reagent set for CA80HA ::long shelf life ::or respectively standard solution

Cleaner CY800

Cleaning solution for Liquiline System CA80 Contains dangerous goods

CAV800 Maintenance kit Liquisystem CA8x

Kits with all maintenance parts for Liquiline System CA8x analyzers Content: dispensers, hoses, connectors, O-ring for the sample collector, filter mats. Optional: in-and outlet hoses(PA), Liquidmanager without motor (PT) or 2 sample collector beakers(PV)

CAZ800 Upgrade Kit Liquiline System CA8x

Upgrade kits for Liquiline System CA8x analyzers. A release code will be generated. The input of the analyzer S/N is mandatory for the order.

Liquiline System CAC800

Sample hoses for Liquiline System with different lengths

Nr

119

Order code

71239297

Kit CA8x: T-sensor cooling module (1 pc)

Nr

124

Order code

71218484

Kit CA8x: double hose connector (10 pcs)

Nr

133

Order code

71222105

Kit CA8x: dispenser holder 10ml (10 pcs)

Nr

137

Order code

71222108

Kit CA8x: dispenser holder 2,5ml(10 pcs)

Nr

138

Order code

71218492

Kit CA8x: liquidmanager complete (1 pc)

Nr

138

Order code

71299073

Kit CA8x: liquidmanager without motor

Safety bottle plastic black 1l

Safety bottle plastic without colour 1l

Kit module extention backplane

CM444/CM448/CSF48

Kit: 1x set of terminals basic module

CM442/CM444/CM448/CSF48/CSP44

Kit: 1x set of terminals module AOR

CM442/CM444/CM448/CSF48

Kit: 1x set of terminals module 4R

CM442/CM444/CM448/CSF48

Kit: 1x set of terminals module 4AO

CM442/CM444/CM448/CSF48

Kit: 1x set of terminals module 2xAI,485

CM442/CM444/CM448/CSF48

Kit: 1x set of terminals module DIO

Kit: display cable

CM442/CM444/CM448/CSF48

SD-Card with Firmware, 1GB

Industrial Flash Drive, Liquiline firmware for 4-wire platform CM442 / CM444 / CM448 / CSF48

SD-Card, 1GB, Industrial Flash Drive

.

Kit CA80xx: 1x digital sensor inputs

Kit CA80xx: 2x digital sensor inputs

Kit : module AOR

2x Relay, 2x 0/4..20mA Out CM442 / CM444 / CM448 / CSF48 CM442R / CM444R / CM448R

Kit: module 2R

2x Relay CM442 / CM444 / CM448 / CSF48 CM442R / CM444R / CM448R

Kit: module 4R

4x Relay CM442 / CM444 / CM448 / CSF48

Kit: module 2AO

2x 0/4..20mA Out CM442 / CM444 / CM448 / CSF48 CM442R / CM444R / CM448R