WirelessHART Fieldgate SWG70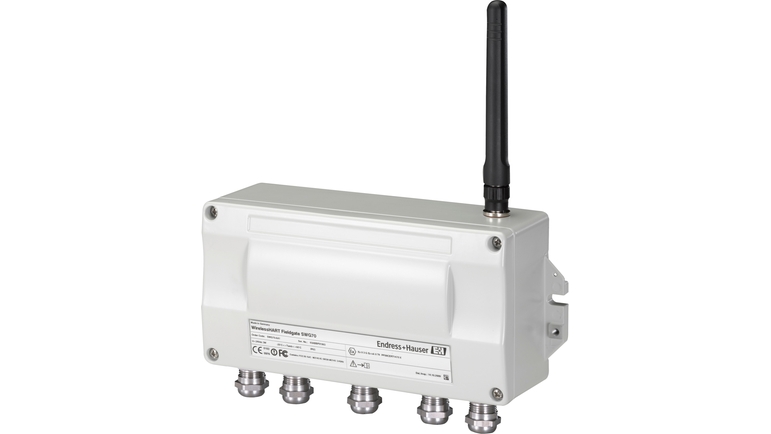 Intelligent WirelessHART gateway with Ethernet and RS-485 interfaces
Endress+Hauser's WirelessHART Fieldgate SWG70 has been designed to act as interface between a system using Ethernet or RS-485 physical layer and WirelessHART network. The gateway is designed for mounting in explosion hazardous areas Zone 2. An integral or remote antenna can be mounted according to the needs of the application.
Selectare rapidă
Alegeţi dintre opţiunile noastre sugerate
Configurare individuală
Selectaţi în continuare dintre toate opţiunile posibile
Avantaje

Easy commissioning and diagnosis of a self-organizing WirelessHART network

Seamless integration of field device information into superior system applications with standardized protocols, such as MODBUS, EtherNet/IP, HART-IP or OPC

Wireless configuration...
Domeniu de aplicare

Process optimization, Tank and silo monitoring/Inventory control, Condition monitoring of equipment. The WirelessHART gateway converts and stores wireless device data in a format that is compatible with other systems. It has Ethernet and serial...
Documente / Manuale / Software
Accesorii / Piese de schimb
Remote dipole antenna

Consists of: Dipole antenna, mounting kit Usage: WirelessHART Fieldgate

Remote panel antenna

Consists of: Panel antenna, mounting kit Usage: WirelessHART Fieldgate

Remote cabinet antenna

Consists of: Cabinet antenna, mounting kit Usage: WirelessHART Fieldgate

Lightning / EMP protector

Consists of: Lightning / EMP protector Usage: WirelessHART Fieldgate

Nr

3;5

Order code

71131509

Coaxial cable 2,5 meter

Consists of: Coaxial cable 2,5 meter Usage: WirelessHART Fieldgate

Nr

3;5

Order code

71131508

Coaxial cable 5 meter

Consists of: Coaxial cable 5 meter Usage: WirelessHART Fieldgate

Nr

3;5

Order code

71131507

Coaxial cable 10 meter

Consists of: Coaxial cable 10 meter Usage: WirelessHART Fieldgate

Nr

3;5

Order code

71131506

Coaxial cable 15 meter

Consists of: Coaxial cable 15 meter Usage: WirelessHART Fieldgate