Manual or automatic retractable assembly Cleanfit CPA472D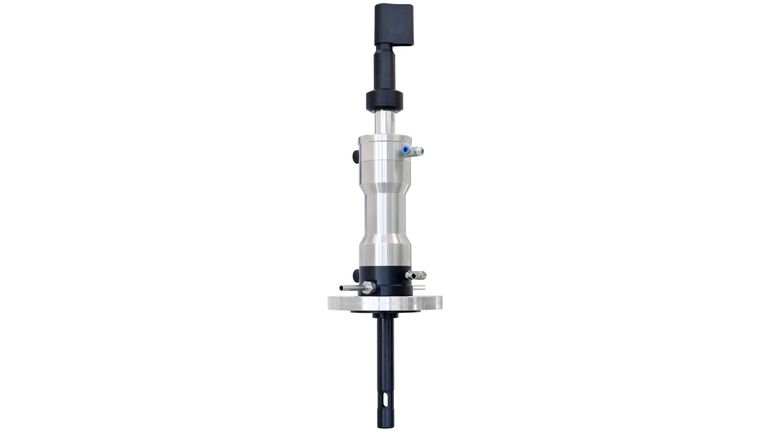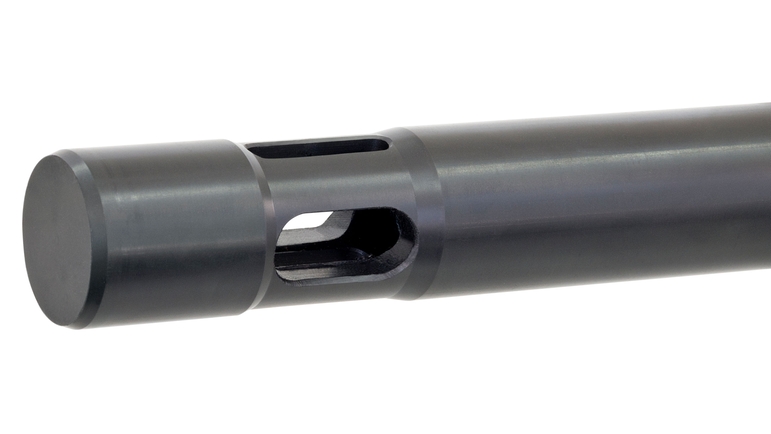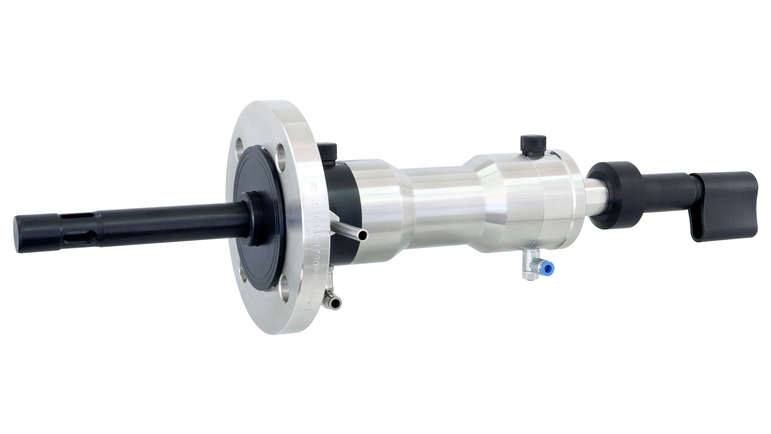 Heavy-duty assembly for chemical and power industries
The Cleanfit CPA472D assembly is designed for harsh process conditions. It offers a great variety of rugged materials to operate your sensors safely even under high pressure, high temperature or in aggressive media. The assembly allows you to replace sensors without interrupting the process or to clean and calibrate them automatically via the optional control system. Benefit from easy, time-saving sensor handling and an extended operating life of the sensors.
Selectare rapidă
Alegeţi dintre opţiunile noastre sugerate
Configurare individuală
Selectaţi în continuare dintre toate opţiunile posibile
Avantaje

Extremely robust: Suitable for use with pressures of up to 10 bar and temperatures of up to 140° C even as PEEK, PVDF, conductive PVDF versions

Maximum chemical resistance ensures long operating times

No process interruption for electrode cleaning and...
Domeniu de aplicare

The Cleanfit CPA472D is intended for installation in tanks or pipes in:

Chemical industry

Power plants

Biodiesel plants

It is suitable for use with pressures of up to 10 bar.
Documente / Manuale / Software
Accesorii / Piese de schimb
Nr

10

Order code

71211749

CPA472D Sealing set inside flange Kalrez

Nr

10

Order code

71211751

CPA472D seal set flange inside Viton

Nr

10

Order code

71211752

CPA472D Seal set flange inside EPDM

Nr

10

Order code

71211736

CPA472D seal set G1 1/4" inside EPDM

Nr

10

Order code

71211745

CPA472D seal set G1 1/4" inside Viton

Nr

10

Order code

71211748

CPA472D seal set G1 1/4 inside Kalrez

Nr

10

Order code

71024242

CPA472D seals flange Viton mediumcont.

Corrosion-resistant o-rings for CPA472D, outside sealed; Viton, FPM

Nr

10

Order code

71027299

Sealings set CPA472D Viton

for G1 1/4" adapter

Nr

10

Order code

71024247

CPA472D Seals flange Kalrez mediumcont.

Corrosion-resistant o-rings for CPA472D,Outside sealed,Perfluorlast; Kalrez

Nr

10

Order code

71027302

Sealings set CPA472D Kalrez

for G1 1/4" adapter

Nr

10

Order code

71043257

CPA472D Seals flange EPDM mediumcont.

Nr

10

Order code

71043259

Sealings set EPDM for CPA472D G1 1/4"

CPA472D seals not medium cont.

For armatur CPA472...

Nr

10

Order code

71090063

Kit CPA472/D: 20 pcs. O-ring ID14 W3 FPM

Nr

10

Order code

71090065

Kit CPA472/D: 2 pcs.O-ring ID14W3 KALREZ

Kit CPA472D Rinse chamber, IN, 316Ti,G,G

for internal process sealing with rinsing connection G1/4" for process connection G1 1/4"

Kit CPA472D Rinse chamber, IN, Alloy,G,G

for internal process sealing with rinsing connection G1/4" for process connection G1 1/4"

Kit CPA472D Rinse chamber, IN, 316Ti,G,N

for internal process sealing with rinsing connection NPT1/4" for process connection G1 1/4"

Kit CPA472D Rinse chamber, IN, Alloy,G,N

for internal process sealing with rinsing connection NPT1/4" for process connection G1 1/4"

Nr

20

Order code

71214230

Kit CPA472D Rinse chamber, IN, PEEK, F,G

for internal process sealing with rinsing connection G1/4" for flange process connections

Nr

20

Order code

71214232

Kit CPA472D Rinse chamber, IN, PVDF,F,G

for internal process sealing with rinsing connection G1/4" for flange process connections

Nr

20

Order code

71214233

Kit CPA472D Rinse chamber, IN,PVDF-C,F,G

for internal process sealing with rinsing connection G1/4" for flange process connections

Nr

20

Order code

71214234

Kit CPA472D Rinse chamber, IN, 316Ti,F,G

for internal process sealing with rinsing connection G1/4" for flange process connections

Nr

20

Order code

71214235

Kit CPA472D Rinse chamber, IN, Alloy,F,G

for internal process sealing with rinsing connection G1/4" for flange process connections

Kit CPA472D long, 361Ti, D18-I: Sensorg

sensor guide with piston,without gaskets for metal rinse chamber for internal process sealing

Kit CPA472D long, Alloy, D18-I: Sensorg

sensor guide with piston,without gaskets for metal rinse chamber for internal process sealing

Kit CPA472D short, 361Ti, D18-I: Sensorg

sensor guide with piston,without gaskets for metal rinse chamber for internal process sealing

Kit CPA472D short, Alloy, D18-I: Sensorg

sensor guide with piston,without gaskets for metal rinse chamber for internal process sealing

Kit CPA472D long, 316Ti, D25-I: Sensorg

sensor guide with piston,without gaskets for plastic rinse chamber for internal process sealing

Kit CPA472D long, Alloy, D25-I: Sensorg

sensor guide with piston,without gaskets for plastic rinse chamber for internal process sealing

Kit CPA472D short, 361Ti, D25-I: Sensorg

sensor guide with piston,without gaskets for plastic rinse chamber for internal process sealing

Kit CPA472D short, Alloy, D25-I: Sensorg

sensor guide with piston,without gaskets for plastic rinse chamber for internal process sealing

Kit CPA472D long, PEEK, D25-I: Sensorg

sensor guide with piston,without gaskets for plastic rinse chamber for internal process sealing

Kit CPA472D short, PEEK, D25-I: Sensorg

sensor guide with piston,without gaskets for plastic rinse chamber for internal process sealing

Kit CPA472D long, PVDF, D25-I: Sensorg

sensor guide with piston,without gaskets for plastic rinse chamber for internal process sealing

Kit CPA472D short, PVDF, D25-I: Sensorg

sensor guide with piston,without gaskets for plastic rinse chamber for internal process sealing

Kit CPA472D long, PVDF-C, D25-I: Sensorg

sensor guide with piston,without gaskets for plastic rinse chamber for internal process sealing

Kit CPA472D short,PVDF-C, D25-I: Sensorg

sensor guide with piston,without gaskets for plastic rinse chamber for internal process sealing

KIT CPA472D man.long Gel:retract.pipe

.

KIT CPA472D long pneum. Gel: retr. pipe

.

KIT CPA472D short hand Gel: retr. pipe

.

KIT CPA472D short pneum. Gel: retr. pipe

.

Nr

16

Order code

71102512

Kit CPA472D KCI-pipe manual

Nr

16

Order code

71102513

Kit CPA472D KCi-pipe pneumatic

Nr

19

Order code

71026658

KIT CPA472D short: Cylinder1.4404 w.head

Nr

23

Order code

71026774

KIT CPA472D with flange: flange DN50

Nr

23

Order code

71026776

KIT CPA472D with flange: flange ANSI 2"

Nr

22

Order code

71026766

KIT 472D DN50+ANSI 2", PEEK: raised face

Nr

22

Order code

71026767

KIT 472D DN50+ANSI 2", PVDF: raised face

Nr

22

Order code

71026768

KIT 472D DN50+ANSI 2"PVDF-c: raised face

Nr

22

Order code

71026770

KIT 472D DN50+ANSI 2", HC4: raised face

Nr

22

Order code

71026771

KIT 472D DN50+ANSI 2",Titan: raised face

Nr

22

Order code

71026772

KIT 472D DN50+ANSI 2",1.4571:raised face

Nr

22

Order code

71026781

KIT CPA472D DN80 PEEK: raised face

Nr

22

Order code

71026783

KIT CPA472D DN80 PVDF: raised face

Nr

22

Order code

71026784

KIT CPA472D DN80 PVDF-cond: raised face

Nr

22

Order code

71026785

KIT 472D DN80 HC4: raised face

Nr

22

Order code

71026786

KIT CPA472D DN80 Titan:raised face

Nr

22

Order code

71026787

KIT CPA472D DN80 1.4571: raised face

Nr

22

Order code

71085850

KIT 472D JIS flange, PEEk: raised face

Nr

22

Order code

71085851

KIT 472D JIS flange, PVDF: raised face

Nr

22

Order code

71085852

KIT 472D JIS flange, PVDF-C: raised face

Nr

22

Order code

71085854

KIT 472D JIS flange, HC4: raised face

Nr

22

Order code

71085855

KIT 472D JIS flange,Titanium:raised face

Nr

22

Order code

71085856

KIT 472D JIS flange, 316TI: raised face

Nr

21

Order code

71026794

KIT 472D HC4, G1/4": Swagelok rinse conn

Nr

21

Order code

71026795

KIT 472D Titan G1/4: Swagelok rinse conn

Nr

21

Order code

71026796

KIT 472D 1.4571 G1/4: Swagelok rinse con

Nr

2.8

Order code

51503732

KIT CPA47x airflow throttle+dummyplug SS

Nr

11

Order code

51503733

KIT CPA47x: sealing plug M12x1 (10 pcs.)

Nr

24

Order code

50062732

Splash guard cover small process ass.

Alte Material-Nummer: 126330

Nr

26

Order code

51518182

Protective pipe short f.process assembly

Flow vessel DN50 PFA-lined, sight glass

Corrosion-resistant PFA-lined;antistatic 3-way sight-glass, DN50 PN16, 230 mm., chemically resistant housing with sight for a retractable and for optimal mounting of rectractable in pipes DN50 and monotoring of sensor in measurement

Built-in adapt.straight,Size25,1.4404

Design length 40 mm

Built-in adapt.oblique,Size 25,1.4404

Design length 40/49mm

flange- welding socket DN50,PN16

Dummy plug 316L, G 1 1/4 inch internal

27 mm, useable for all welding adapter G 11/4 inch

Locking screw G1/4 inch GL8mm

Hose connection set PVDF, G 1/4"-DN 12

for porge chamber for CPA450

KIT CPA47x pneu.connection G1/8 AD6 10p