1-channel transmitter
Liquiline M CM42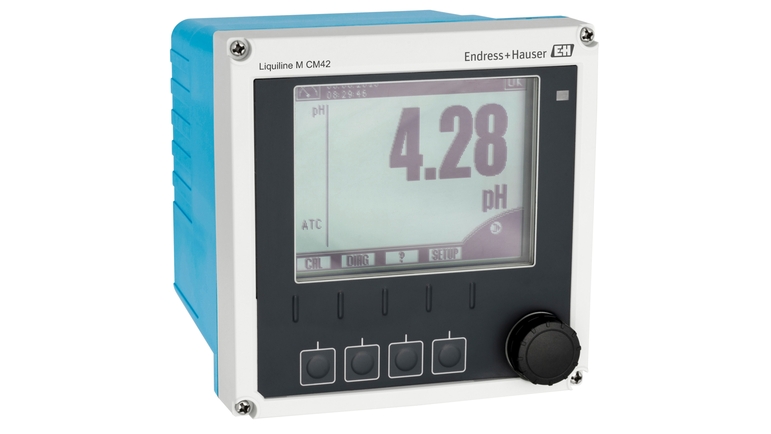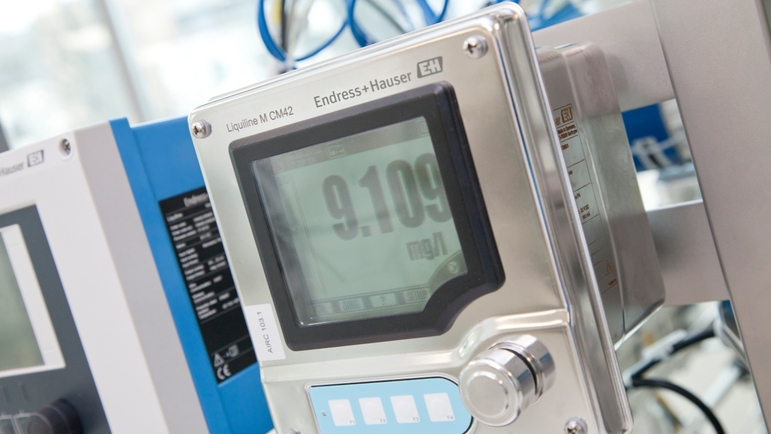 Two-wire field device for hazardous and non-hazardous area use in chemicals, life sciences and food
Liquiline M CM42 is the robust transmitter for pH/ORP, conductivity or oxygen measurement in all process applications. It is the best choice for demanding environments be it hygienic applications, hazardous areas or functional safety areas. Liquiline's intuitive operating concept simplifies commissioning, handling, and maintenance saving you time every day. Easy switching of parameters and seamless system integration give you the flexibility to adapt it exactly to your measuring task.
Selectare rapidă
Alegeţi dintre opţiunile noastre sugerate
Configurare individuală
Selectaţi în continuare dintre toate opţiunile posibile
Avantaje

Simple commissioning with quick setup and navigator

The Memosens technology allows plug & play with pre-calibrated Memosens sensors

Less storage thanks to modular design

Predictive maintenance system detects when a sensor has to be cleaned, calibrated or...
Domeniu de aplicare

The Liquiline CM42 transmitter is suitable for all process applications, for example in these industries and their utilities:

Chemicals

Food & Beverages

Life Sciences

Power & Energy

Oil & Gas

Primaries & Metal

Liquiline CM42 features the following...
Documente / Manuale / Software
Accesorii / Piese de schimb
For repair of devices with ex-approval

please contact your local

E+H Sales- and serviceorganisation

Nr

4,7

Order code

71249341

Kit CM42: enclosure lid plastic w.displ.

Nr

25

Order code

51517463

Kit CM42: moulded gasket for encl.lid SS

(SS = stainless steel version)

Kit CM42: Module partition wall plastic

Use only for CM42 plastic

Nr

10,11

Order code

51518005

Kit CM42 repair: Input CD conductive

Nr

10,11

Order code

51518006

Kit CM42 repair: Input CD inductive

Nr

12,13

Order code

51518007

Kit CM42 repair: digital input/Memosens

Kit CM42: input module FSDG1, digital for Memosens, non-Ex version.

Nr

11

Order code

51517489

Kit CM42: terminal set CD conductive

Nr

11

Order code

51517490

Kit CM42: terminal set CD inductive

Nr

3,9,11,13,

Order code

51517498

Kit CM42: terminal set 5 pcs of eachone

Nr

4,7

Order code

51517502

Kit CM42: flat ribbon cable SS enclosure

Nr

14

Order code

51517504

Kit CM42: Cable glands M20 PC/SS

Kit can be used for devices with poly carbonate(PC)housing and for devices with stainless steel (SS) housing.

Nr

14

Order code

51517505

Kit CM42: Cable glands NPT1/2" PC/SS

Kit can be used for devices with poly carbonate (PC) housing and for devices with stainless steel (SS) housing

Nr

14

Order code

51517506

Kit CM42: Cable glands G 1/2" PC

Use this kit only for devices with poly carbonate (PC) housing and not for devices with stainless steel(SS)housing.

Nr

14

Order code

71426655

Kit CM42: Cable glands G 1/2" SS

Use this kit only for devices with stainless steel (SS) housing and not for devices with poly carbonate(PC) housing.

KIT FXA291: spare cable CDI complete

Cable entry set M12 Profibus PA

Suitable for device cable entry M20

Cable entry set 7/8" FF

Suitable for device cable entry M20.

Pipe mounting kit CM42 stainl.steel

Application: CM42 stainless steel Pipe diameter 20-61 mm horizontal, vertical mounting Material: stainless steel

Pipe mounting kit CM42 PC

Application: CM42 Polycarbonate Pipe diameter: 20-61 mm Horizontal, vertical mounting Material: stainless steel, powder coated

Spare RFID TAG

Consists of: RFID TAG, fixing wire, crimp sleeve.

Weather protection roof 253x228 mm, PC

Application: Liquiline M CM42 Material: Polycarbonate 9,96 x 8,98 inch

Stainless steel 1.4301, 320x300x270mm

Panel mounting kit 138x138 stainl.steel

Application: CM42 stainless steel For cutout 138 x 138 mm 5,44 x 5,44 inch

Panel mounting kit 138x138 mm, PC

Application: CM42 Polycarbonate For cutout 138 x 138 mm 5,44 x 5,44 inch

Commubox FXA291 (Hardware)

Serial USB Computer Interface Technical Data: - USB Version1.1 or higher - Power supply via USB - IP51; NEMA/Typ 3 - Ambient temperature: -20....+60oC - Ex: II(2) G (EEx ia) II C - ATEX: BVS 05 ATEX E 095 Scope of deliovery: Commubox FXA 291 MS Windows USB driver Device is submitted for CSA/FM application. The device may not be modified and may be used with intrinsically safe circuits with corresponding characteristics only (see safety certificate).

DAT module CY42

DAT module Liquiline M CM42 Parameter change feature enhancement Software update language catalog enhancement store configuration